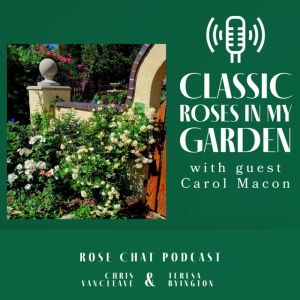 Sunday Nov 07, 2021
CLASSIC ROSES IN MY GARDEN WITH CAROL MACON
CLASSIC ROSES IN MY GARDEN
Carol Macon
If you listened to the recent podcast with Matt Douglas from High Country Roses on PRESERVING THE CLASSICS, you'll remember his mentioning Carol Macon. Well, Carol is with us today! And just as Matt told us,  She has an incredible garden --- a garden that is home to around 400 roses. She's with us today to tell us about some of those classic roses she grows.
ROSE CHAT TEAM:
Executive Producer & On-Air Personality:
Creator of the Rose Chat Podcast. Mr. VanCleave is a nationally known rosarian, speaker and advocate for the rose.
Co-Host Teresa Byington promotes roses as an integral part of the landscape, as a Consulting Rosarian, Master Gardener, writer, and speaker.
SUBSCRIBE:
VISIT OUR SPONSOR:
Comments
(0)
To leave or reply to comments, please download free Podbean or