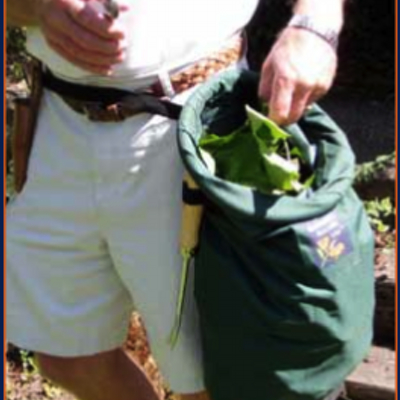 Wednesday Jan 06, 2016
The Gardener's Hollow Leg | Gardening Innovations | Bob Blomberg
On this episode of the Rose Chat Podcast welcomes Bob Blomberg, he's the inventor of the Gardener's Hollow Leg, a gardening debris and harvesting bag that you wear! It's a fabric sack attached to a belt that is worn while you are working in the garden. It's ideal for doing light pruning, dead-heading, spot-weeding, and general neatening. There's even a Velcro-closed pocket for your cell phone or iPod! The patented ring-opening at the top makes it easy to drop your clippings into the sack! This gardening innovation could come in handy for the rose gardener. 
Mr. Blomberg is offering Rose Chat Listeners a discount when you use the discount code "ROSE" at checkout 
Learn more: 
TheGardenersHollowLeg.com 
Gardening Innovations is a series of broadcasts dedicated to showcasing new products that make our lives in the garden easier. Exclusively on the Rose Chat Podcast. 
Comments (0)
To leave or reply to comments, please download free Podbean or