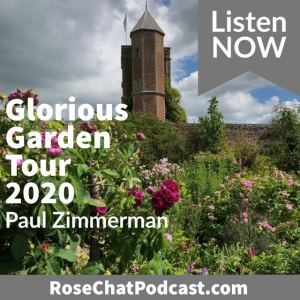 Sunday Jan 26, 2020
Glorious Garden Tours 2020 - Paul Zimmerman
Garden Tours for 2020!
Paul Zimmerman's  first garden tour in England was by ALL accounts a success. They spent seven days seeing great gardens, learning a lot about roses and how to grow them. and eating probably too well and most of all made new friends. This has lead him to continue to offer tours in conjunction with Boxwood Tours.
For 2020 they are returning to England and adding another one of Belgium and Holland. Both offer great gardens, rose education, local culture and most of all a chance to make great garden friends.
Our UK Tour is now accepting reservations 
Click Here for more information and how to reserve your spot. 
GIVEAWAY FOR FACEBOOK FOLLOWERS!
Signed copy of Paul Zimmerman's book EVERYDAY ROSES. Those who share this post on Facebook will be eligible to win! There will be two lucky winners! Winners will be announced via FB Messenger next Sunday night, Feb 2, 2020.
_ABOUT PAUL ZIMMERMAN
 
Paul Zimmerman is the owner of Paul Zimmerman Roses, a company dedicated to Budding the Rose Grower In All Of Us. He is also an Independent Consultant to Jackson & Perkins as well as their Head of their Landscape & Design Division and exclusive Rose Consultant to Biltmore Estate as well as director of their International Rose Trials,
He has written articles for Fine Gardening, Organic Gardening, American Nurseryman and other gardening magazines. He hosted the blog "Roses Are Plants, Too" on Fine Gardening Magazine's website for numerous years. He lectures internationally and has also served as an International juror for numerous Rose Trials. He is the author of the book "Everyday Roses' published by Taunton Press.
 
While living in Los Angeles, California Paul founded and ran "Hundred Acre Woods Rosescapeing", a company specializing in the care, design and installation of rose gardens; particularly Antique, Shrub and David Austin Roses. After moving to South Carolina he started Ashdown Roses Ltd a rose nursery offering A World of Garden Roses, which he closed in 2009 to focus on rose growing education.
 
Among some of his other accomplishments are founding a You Tube Channel on rose care with to date some 3.5 million views, creator and host of the Blueprint (formerly Craftsy) class "A Gardener's Guide to Growing Roses", was hired by the New York Botanical Garden to review their care protocols and was hired by the Chinese Government to present a two day seminar on the American Rose Industry and American Rose Gardens to a delegation of rose experts from China. He is now also leading garden tours in Europe.
 
It is this hands on experience with roses in a general garden setting that Paul draws on for his Talks, You Tube Videos, Articles, and Workshops.
 ____________________________________________________
THE SHOW: www.RoseChatPodcast.com
Listen to any episode anytime online for FREE!
Our Hosts:
Chris VanCleave - www.RedneckRosarian.com
Creator of the Rose Chat Podcast. Mr. VanCleave is a nationally known rosarian, speaker and advocate for the rose.
Teresa Byington - www.TheGardenDiary.com
Co-Host Teresa Byington is a Rosarian, Master Gardener, writer and a member of the Board of Directors of the American Rose Society.
Subscribe to Rose Chat Podcast Updates: http://bit.ly/subscribeROSE
Visit Our Sponsors:
Haven Brand Soil Conditioners
http://www.ManureTea.com/shop
RedneckRosarian by DeWit - Heirlooms Garden Tools
https://amzn.to/2My1LkC
This podcast is a production of the VanCleave Media Group, Birmingham Alabama
Comments (0)
To leave or reply to comments, please download free Podbean or