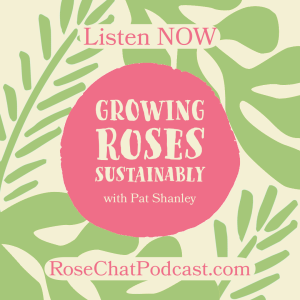 Sunday Oct 03, 2021
GROWING ROSES SUSTAINABLY with Pat Shanley
Today we chat about GROWING ROSES SUSTAINABLY.  And we have the perfect person for this topic --PAT SHANLEY, former President of the American Rose Society.
Pat helped to write the book on this subject --- as the co-editor and a contributing author of the book titled, "The Sustainable Rose Garden - A Reader in Rose Culture."
If you have ever seen a picture of Pat's garden you will know it to be one of the most beautiful private gardens - a garden where she grows approximately 250 roses using no-spray, sustainable practices.
More About Pat…
Pat Shanley is the Immediate Past President of the American Rose Society.  She is the Founding and current Chairman of American Garden Rose Selections™ (AGRS™) - the national testing program for new rose varieties. 
She is also an ARS Horticultural Judge; ARS Arrangement Judge; ARS Master Rosarian; Recipient of the ARS New York District Silver Honor Medal, Outstanding Judge, and Outstanding Consulting Rosarian Awards.
She is the founding and current president of the Manhattan Rose Society; Founding Chairman of the New York Metropolitan Rose Council; Founding Chairman of the Great Rosarians of the World™ East (GROW™) Award Lectureship.
She is Past Vice Chairman of Queens Botanical Garden Board of Trustees, currently serving on their Advisory Board and the recipient of their highest award, the 2020 Rose Gala Award. Follow her on Facebook here. 
ROSE CHAT TEAM:
Executive Producer & On-Air Personality:
Creator of the Rose Chat Podcast. Mr. VanCleave is a nationally known rosarian, speaker and advocate for the rose.
Co-Host Teresa Byington promotes roses as an integral part of the landscape, as a Consulting Rosarian, Master Gardener, writer, and speaker.
SUBSCRIBE:
VISIT OUR SPONSOR:
Comments
(0)
To leave or reply to comments, please download free Podbean or