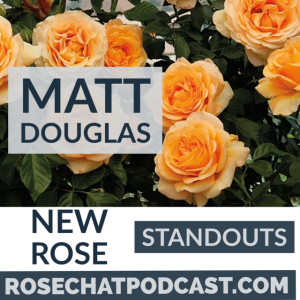 Sunday Sep 05, 2021
New Rose Standouts - Matt Douglas
Matt Douglas, owner of High Country Roses, is with us today to talk about some of the newer roses on the market that are proving to be standouts! He also gives us a "peek" at new roses soon to be released! A rose that's perfect for your garden just might be on Matt's list. 
Find the roses mentioned on the podcast and many more at HIGHCOUNTRYROSES.COM here. 
ROSES MENTIONED ...
GOLDEN OPPORTUNITY
BELINDA'S BLUSH
PERFUME FACTORY
ENCHANTED PEACE
FIESTA VERANDA
SUNSET HORIZON
MOTHER OF PEARL
TWO NEW MINIATURE ROSES FROM ROBERT RIPPETOE...
(Robert is also the hybridizer of the rose 'Miracle on the Hudson' that was a big winner at the Biltmore International Rose Trials)
Que Lindo
https://www.helpmefind.com/rose/l.php?l=2.86771
Orchid Kisses
ROSE CHAT TEAM:
Executive Producer & On-Air Personality:
Creator of the Rose Chat Podcast. Mr. VanCleave is a nationally known rosarian, speaker and advocate for the rose.
Co-Host Teresa Byington promotes roses as an integral part of the landscape, as a Consulting Rosarian, Master Gardener, writer, and speaker.
SUBSCRIBE:
VISIT OUR SPONSOR:
Comments
(0)
To leave or reply to comments, please download free Podbean or