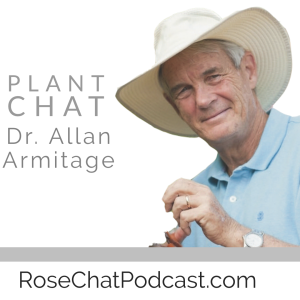 Sunday Oct 25, 2020
Plant Chat with Dr. A
PLANT CHAT 
Dr. Allan Armitage
New Hellebores that hold their heads up. 
Well behaved Coreopsis!
Yes, this and so much more from Dr. Armitage, who wows us with new plant information and, as always, adds loads of fun to gardening.
BOOK PROMO CODE:
Until the end of November, you will receive free shipping on books purchased from his bookstore by using the promo code ROSECHAT.
http://www.allanarmitage.net/shop

DR. A's FAVORITE NEW PLANT LIST...
PERENNIALS...
Hellebores with upright flowers! 
Frostkiss Variegated Hellebores There are almost a dozen cultivars with tough beautiful foliage and colorful upright flowers.  

Ice & Roses Hellebore series (not variegated, but good performers)
Rudbeckias: The new rudbeckias bred by Brent Horvath of Intrinsic Perennials in Hebron, IL.  An upgrade to 'Goldsturm'.
Coreopsis: Uptick series, the best is 'Gold & Bronze'
Roses: Brindabella series of roses and the nicely-behaved 'Winner's Circle' climbing rose
 Aralia:
'Sun King', as good as the press claims it to be.
ANNALS...
Gomphrena: 'Truffula Pink' - I love it, flowers forever, and ho can you not like Dr Seuss?
Begonia: 'Canary Wings', the golden form of 'Dragon Wings'. Absolutely brightens the shade.
SHRUB...
Deutzia 'Chardonnay Pearls', not new but extraordinary
TREE... 
Any Japanese maple
SOCIAL MEDIA:
Join Dr. A for events including "Walk Abouts" in his garden and on his travels via Instagram and Facebook.
---
ABOUT DR. ARMITAGE:
Dr. Allan Armitage is a well known writer, speaker, and horticulturist. Born and raised in Quebec and Ontario, he later lived in East Lansing, MI and now resides in Athens, GA. He has worked with landscape plants and greenhouse crops in the North and South, and travels the world speaking and sharing his passion for plants.
OUR HOSTS:
Creator of the Rose Chat Podcast. Mr. VanCleave is a nationally known rosarian, speaker and advocate for the rose.
Co-Host Teresa Byington is a Consulting Rosarian, Master Gardener, writer, and a member of the Board of Directors of the American Rose Society. Teresa's large cottage garden weaves together her love of roses - from the oldest to the most modern shrubs and their garden companions.
SUBSCRIBE:
VISIT OUR SPONSOR:
Comments
(0)
To leave or reply to comments, please download free Podbean or